Emerging financial centres feature centrally in FCI 500
Along with with the welcome effect of the decline in political influences on the composition of the 2011 edition of the FCI 500 will be the influence of the decline and fall of different financial centres in the past year. Clearly, Asia has been making its increased mark, and this will be reflected in the success it is having in achieving real business wins with the establishment of new financial services businesses in various sectors.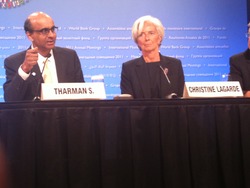 Tharman Shanmugaratnam, deputy PM of Singapore, and Christine LaGarde pictured at the World Bank - IMF annual conference in Washington DC, September 2011.
(Photo: Financial Centres International).
But all is not lost either, for Europe and the Americas, despite the troubles that both spheres are facing. As Cayman's Anthony Travers intimates elsewhere in FCI, the ECJ's effective recognition of the role of offshore financial centres in relation to onshore can perhaps be seen as a sign of a welcome convergence in the future of both as complimentary in a global financial centres arena that, while competitive, shall be seen as offering complementary solutions and strengths to the benefit of the end user - the ordinary customer, and the global economy. Thus, the FCI 500 No 2 will reflect this fact also.
Pictured (right) together are two of the key figures identified as people to watch in the first edition of the FCI 500 - both of whom were appointed to higher office during the past year - Singapore's Finance Minister, Tharman Shanmugaratnam, elevated to deputy Prime Minister of his country, following the country's election in May of this year. Another Finance Minister, who featured on the cover of our FCI 500 issue, Christine Lagarde, then Finance Minister of France, became Managing Director of the IMF this year.
Our photo shows them at the annual IMF meeting in September addressing a press conference.