FCI Conference provides myriad insights on the business of financial centres
The Global Financial Services Centres Conference 2010 on April 27th and 28th is the third in the series of conferences held by Fintel on the topic, although earlier conferences, for example on the 'Transatlantic Dialogue', and on subjects such as securitisation and covered bonds are forerunners to the themes which culminate with the publication of Financial Centres International
The 2010 conference was opened by Peter J. Wallison member of the Financial Crisis Inquiry Commission, whose analysis of the financial crisis - presented at the conference - provided an 'alternative narrative' to what he said most people would be familiar with if they confined their reading to the main national newspapers in the US. By contrast, he said, 'there is a smoking gun', and 'it is in the hands of Government' he said, with both Democrats and Republicans qualifying to share the blame. His keynote address also made reference to his 'debtor selection' solution to cross border bank resolutions. The proposal is detailed in our article and interview on page 14.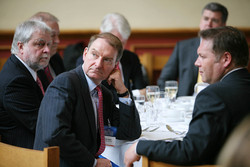 (L-R)Attorney General of Ireland, Paul Gallagher, former SEC Commissioner
Paul Atkins, and Marcus Killick, Chief Executive, Financial Services
Commission, Gibraltar. (In background L-R): Michael Somers, Director AIB
Bank, Stefan Gavell, Global Head of Regulatory Affairs & Executive VP, State
Street, Boston, Mass., and Dan Gallagher, former Co Acting Director Division of Trading & Markets, SEC Washington.
Wallison was joined in a panel by former SEC commissioner Paul Atkins and member of the TARP Oversight Panel, of the US Congress (charged with overseeing the expenditure of Hank Paulsen's €900 billion US TARP rescue), Dan Gallagher former Co-Acting Director, US Securities & Exchange Commission, Division of Trading & Markets and now partner of WilmerHale the Washington based law firm, and Rod Roman head of EMEIA Banking Tax Team of Ernst & Young.
Delegates heard the inside story on US banking supervision from the man responsible for the supervision of the American investment banks when Lehman's fell in September 2008. Dan Gallagher, former head of the SEC's consolidated supervised entity programme, debunked the notion that the SEC were 'asleep at the switch' and that they allowed the banks to continue imprudent lending practices. He described in detail how and why the crisis was beyond supervisors' control and that their hands were tied by political control. Wallison added to this point, describing a discussion he had with Alan Greenspan at an FCIC hearing in which Greenspan implied the great difficulties that there were for supervisors in stopping the housing bubble in the US because of political involvement.
A major theme throughout many of the conference panels was the threat posed by proposals lobbied for the G20 on financial services and financial services centres. A number of panelists over the two days raised concerns about the G20 and the damage if some of their proposals materialise. Some panelists and speakers said they would be relieved if agreement amongst the G20 could not be reached. China was celebrated for the role it had played in stopping the march of some of the 'anti-finance' G20 proposals. Reasons panelists gave for this breaking of the ranks by China were: the increasing importance of its financial centres, Shenzen, Shanghai and Beijing, as well as Hong Kong and the growing importance of the provision of financial services to its growing economy has made it wary of moves to over-regulate financial services.
In the afternoon on the first day newly appointed Isle of Man Treasury Minister Anne Craine gave her first ever international address. Craine gave an insight into how the Isle of Man is maintaining its strategy through the crisis. And to judge from her address the Isle of Man does not plan to change its approach to its financial services industry. Craine also mentioned the validation that the United Kingdom's Crown Dependencies (CDs) received from the Foot report and how the report shows the vital role that the centres in the CDs play in global finance. John Cullinane, one of the authors of the Foot report's accompanying report by Deloitte that gave tax recommendations, gave the story of the report to delegates.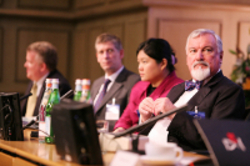 Michael Ryan, Deputy Chief Executive, Qatar Financial Centre Regulatory
Authority, Boyd Winton, Head of Financial Services, Bahrain Economic
Development Board, Jessica Tan, Partner, McKinsey, Singapore, and David
Kinloch, CEO, Labuan IBFC
Daniel Mitchell senior fellow of the Cato Institute and one of the world's leading speakers on tax competition made a defense of low corporation tax rates for financial centres. Following the conference Mitchell wrote on his blog: 'I spoke today before the 2010 Global Financial Services Centres Conference. Equally important, I got to meet with some of the nation's top economic minds. First, the good news: Ireland has no intention of giving up its low 12.5 percent corporate tax rates. The bad news is that Ireland is drifting in the wrong direction. Bailouts, higher spending, more red tape, and social engineering are gradually eroding the benefits generated by a better tax system. Both government and private debt are too high. Ireland probably still belongs in the world's top 10, as determined by Economic Freedom of the World and the Index of Economic Freedom, but that is more a reflection of how few nations enjoy genuine economic liberty.'
Also on day one the Irish Financial Regulator Matthew Elderfield, the head of the Bermuda Monetary Authority up to last Autumn announced a proposed code of corporate governance for banks and insurance companies. This initiative, which foreshadows other similar initiatives within the EU has been strongly opposed in Ireland, particularly by German owned banks with subsidiaries located in the Irish IFSC. The code detailed restrictions on the structure of boards. He was followed by Marcus Killick, regulator of Gibraltar, who gave a regulator's perspective on the Irish regulator's new governance standards. Killick's own address referred to the imagined conflict between good regulation, and the aim of promoting a good financial sector in a jurisdiction.
Funds administration centres were profiled covering some latest developments, for instance fund mergers, redomicilations, and the tax implications. Also Kenneth Farrugia, chairman of Malta Finance and head of the biggest fund administrator in Valetta, gave an update on the centre's funds offering, while Julie Patterson of the Investment Management Association gave details of the recent tax changes that significantly boost the UK's competitiveness as a fund domicile.
Leading figures from three of the top Islamic finance centres gave a masterclass on the subject: Boyd Winton, Head of Financial Services, Bahrain Economic Development Board, David Kinloch, CEO Labuan IBFC and former chairman of Merrill Lynch Capital markets Bank in Ireland, Michael Ryan now Deputy Chief Executive, of the Qatar Financial Centre Regulatory Authority.
Hubertus Vaeth Managing Director of Frankfurt am Main Finance outlined the establishment of Frankfurt's new Institute for Risk Management and Regulation, saying 'we don't need less innovation, we need more, a lot more'. Nevertheless, he said there have to be changes, as we cannot just go on as before, and, speaking of Frankfurt, said 'we have some catching up to do'.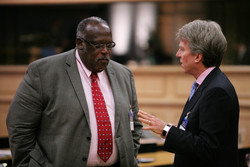 Commissioner Robert Mathavious, CEO of the British Virgin Islands Financial
Services Commission, with Richard Hay, partner, Stikeman Elliot.
Nevertheless, he said, Frankfurt, rooted in Europe's largest economy is seeing an influx of new banks 'with a new one almost every month', from countries such as Vietnam, China, Russia, while Deutsche Borse, the world's largest derivatives exchange goes from strength to strength, 'as quietly everybody copies the Deutsche Borse model'.
Paris Europlace was represented by its special adviser, Edouard de Lencquesaing, who emphasised the supply of credit and capital, and the provision of access to capital on a global scale, pointing out that Wall Street, for example was failing to reach across the globe. 'What we need to do is leverage diversity, and create value from diversity' he said.
Centres in Asia and Oceania were surveyed by McKinsey partner, Singapore-based Jessica Tan. The shift to Asia has accelerated, she said, and Sydney, Hong Kong and Singapore are poised to reap the gains. Singapore, she said, was very aggressive, and well positioned, and Shanghai was set to realise the long term strategy set for it in 2009. Mumbai, she felt has still a long way to go, and is currently hampered by high taxes and overbearing regulation, with Mauritius gaining.
Michael Mainelli, author of Z Yen's GFCI Index of Global Financial Centres chaired the morning session on Day 2 and provided an insight into the Index's movements.
Further details on the conference and the presentations are available on our website: www.financialcentresinternational.com